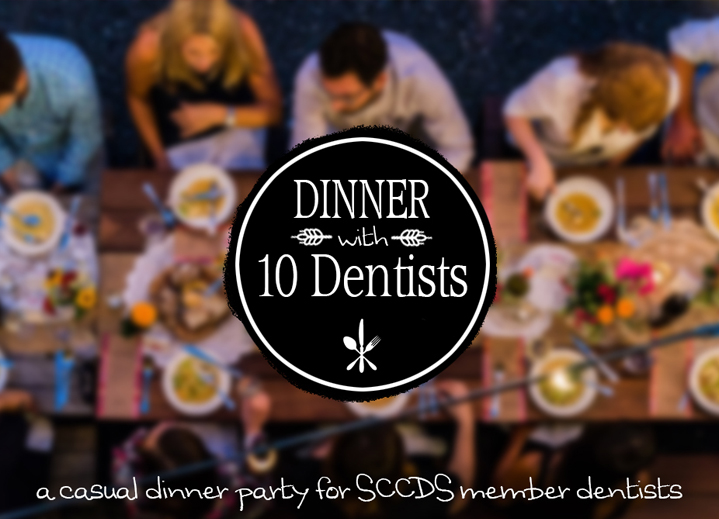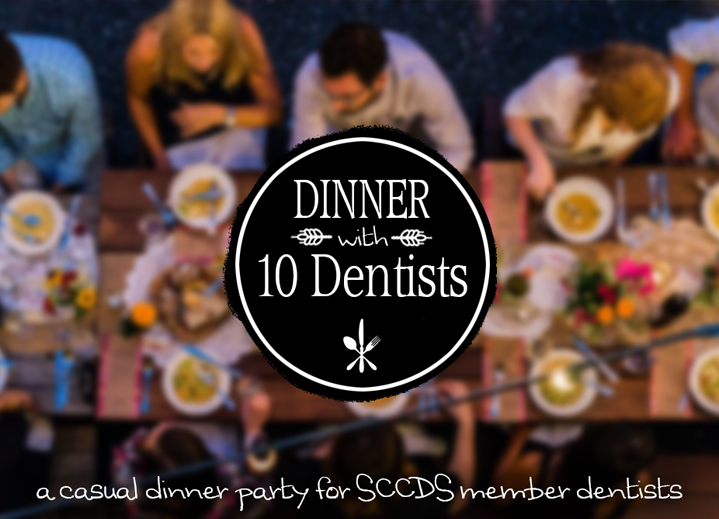 Dinner with 10 Dentists is an exciting new program sponsored by the SCCDS Membership Committee. At each event, 10 member dentists enjoy a casual evening of dining and conversation hosted at the home of an SCCDS colleague. Our sister component, the Los Angeles Dental Society started the program a few years back and it's been a great success. The committee was eager to bring the same concept to our members.
Not just shop talk
It isn't just an evening of "shop talk." Member dentists will have the chance to really get to know their colleagues as they enjoy a delicious meal at the host's home. It's a fantastic way to learn about fellow dentists in a relaxed, cozy environment without the pressure of speaking in front of a large group.
First of all, a smaller, more intimate gathering can help friendships to form without pressure. As a result, conversations can be richer and more engaging without the buzz of a few hundred people in the background. Ultimately, when our members form friendships, our Society as a whole is strengthened.
 A Delightful Event
Dr. Don and Sheila Call kicked off the Dinner with 10 Dentists program at their historic home in Saratoga. The attending dentists and their spouses or dates enjoyed some ice-breakers and a delicious meal. After dinner, the conversation carried on into the evening. It was a delightful event by all accounts.
According to member dentist Dr. Jennifer Yau "The kick-off Dinner with 10 Dentists was a blast! Chris (Vu) and I thoroughly enjoyed it, and I am sure the other guests did as well." It sounds like we can look forward to Dr. Yau hosting a Dinner for 10 Dentists evening in the near future! The program is in its infancy but you can expect to read about more great dinners with 10 dentists in the future. The list of hosts and guests will rotate according to interest and availability. Please
contact our office
to learn more about attending or hosting a Dinner with 10 Dentists evening.