The Cutting Edge Magazine is the official magazine of the Santa Clara County Dental Society. Released nine times per year, "The Cutting Edge" is designed to keep members informed of changes and updates in their profession and community. Readers enjoy regular columns from SCCDS leadership, CDA Practice Support and more. The magazine also includes details about upcoming events, a helpful index of sponsors and a classified ads section.
If you are interested in contributing content to The Cutting Edge Magazine, please contact Erich Larsen, SCCDS Communications Coordinator. We are always looking for editorial, educational, artistic and news content relevant to the profession of dentistry in the Santa Clara County.
If you wish to place an advertisement in The Cutting Edge Magazine, please contact anyone at our office for more details and an advertising packet.
Read Our Current Issue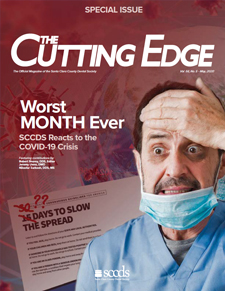 Worst Month Ever: SCCDS Reacts to the COVID-19 Crisis
The COVID-19 pandemic is here. Practices are closed, threatening the livelihoods of dentists and the team members that depend on them. Combined with the very real and deadly health threat, the stress can be overwhelming. With so much uncertainty in our world right now, we hope this issue and our online efforts serve as a source of useful information that our member dentists can use to survive and come back stronger than ever.
Featuring contributions by:
Robert Shorey, DDS, Editor
Jeremy Ueno, DMD
Niloofar Zarkesh, DDS, MS
Read Past Issues